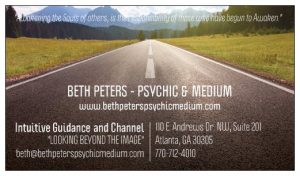 Beth Peters, Psychic & Medium
"Awakening the Souls of others, is the responsibility of those who have begun to Awaken." Beth Peters  
Atlanta, GA 30044
beth@bethpeterspsychicmedium.com
Contact Beth for information about her Psychic Readings, Mediumship, Animal Communication & Healing services. Book appointments by phone or face to face. Ask Beth about Gallery/Group Events, Radio Shows, Public Speaking, Paranormal Investigations, Workshops and Events.
New Client Info Release Waiver
*Paranormal Investigations – Option – Go to the links page in the menu for more information about Ghosts of Georgia Paranormal Investigations.  Request an investigation if needed.
Email is answered within 24 hours
Contact Us Form
* Currently unavailable.  Please contact me by phone or email.
Disclaimer:
Please be advised that readings or guidance of any kind given by Beth Peters, are for your personal guidance only. Any information given is for your personal information and your responsibility when making choices or decisions. A reading or guidance session is subject to your own interpretation. Readings, guidance, or workshop classes, are not a substitute for any professional services such as, but not limited to, legal, medical or financial.
Readings with Beth are personal and confidential. Client information will not be shared or sold.