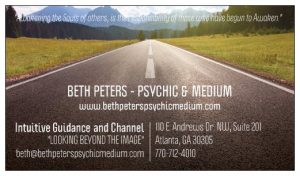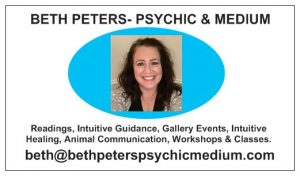 "Awakening the Souls of others is the responsibility of all that have begun to Awaken." Beth Peters
Psychic & Healing Services Include:
Animal Communication, (Including Animal Healing & Mediumship)

Group Gallery Readings & Group Events (Animal Galleries Too)

Intuitive Life Guidance & Coaching

Missing Persons, Objects or Animals

Paranormal Investigations

Past Life Readings

Psychic Readings & Mediumship (Communicating with those who have Crossed Over)

Public Speaking & Radio Shows

Reiki & Intuitive Energy Healing

Workshops (Tuning In – Psychic Development & Animal Communication)
Please be advised that readings or guidance of any kind given by Beth Peters, are for your personal guidance only. Any information given is for your personal information and your responsibility when making choices or decisions. A reading or guidance session is subject to your own interpretation. Readings, guidance, or workshop classes, are not a substitute for any professional services such as, but not limited to, legal, medical or financial.
Readings with Beth are personal and confidential. Client information will not be shared or sold.